OG0-061: IT4IT™ Part 1 Exam
October 10,2019
The Open Group offers examination tests for all of the current Certification for People Programs: ArchiMate?, IT4IT?, Open FAIR?, TOGAF? 9. This week, we got IT4IT? Part 1 Exam and the exam code is OG0-061.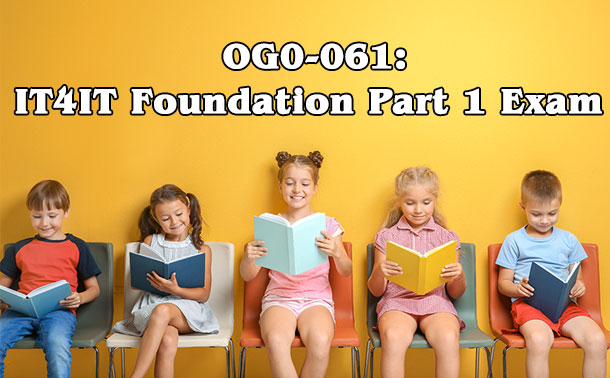 First you need to know the details about OG0-061 exam summary:
Exam Name: IT4IT? Part 1 Exam
Exam Number: OG0-061 - English
Qualification upon passing: IT4IT Foundation (and partial credit towards a future Level 2 qualification)
Exam type: Simple Multiple choice
Number of questions: 40
Pass score: 65% (26 out of 40 questions)
Time limit: 60 minutes
Retake policy: If you fail the test you must wait one month before another attempt
Examination Fee: US $320
Schedule your exam at Pearson vue
Recommended Study: for this exam, we also provide 40 exam questions, full coverage and all exam questions are all screenshot questions directly got from test center. So can help you pass the exam easily.
i also can share 5 demo questions as below, if you once took the exam, you can viewer before purchase it. Please check:
1.What is the difference between primary and supporting activities in the IT Value Chain?
A. Primary activities are core for the overall business operating model, while the activities of the IT value chain are a supporting activity
B. Primary activities focus on the early stages of the IT lifecycle, while supporting activities focus on the later stages
C. Primary activities are core and vital to the IT function, while supporting activities help ensure its efficiency and effectiveness
D. Primary activities focus on systems design and construction; supporting activities include planning and operations management
Answer: C
2.What is a goal of the Diagnostics and Remediation functional component?
A. To design, create, and manage Service Contracts
B. To aggregate Events
C. To shorten Mean Time to Repair
D. To manage the lifecycle of Requests for Change
Answer: C
3.What is the purpose of the Enterprise Architecture functional component?
A. To log, maintain, and evaluate all demands coming into IT through a single funnel
B. To manage creation, review, approval, and audit of all IT policies
C. To create and manage long-term IT investment and the execution plan-of-action
D. To manage the authoritative list of all IT investments
Answer: B
4.What is a benefit of implementing the Strategy to Portfolio value stream?
A. Increased business effectiveness by providing a foundation for moving from traditional IT service management to service brokerage
B. Services designed in accordance with standards and policies
C. Prioritized IT investment based on impacts on architecture and business priorities
D. Reduced costs by proactively identifying issues before the service impact becomes severe
Answer: B
5.What functional component aggregates Catalog Composition items and external supplier catalogs into consumable Offers?
A. Offer Consumption
B. Fulfillment Execution
C. Catalog Composition
D. Offer Management
Answer: D
If you need the full version of this OG0-061 exam, you can contact us, we can help you solve the problem at once.