BICSI RCDD Certification
December 31,2020
RCDD certification is one of hot credentials of BICSI. The RCDD designs communications distribution systems, supervises the execution of the design, coordinates activities with the design team and assesses the overall quality of the completed communications distribution system that supports information and communications technology (ICT) solutions. We have released the latest RCDD-002 certification dumps, which are valuable for you to pass RCDD-002 exam and earn BICSI RCDD certification.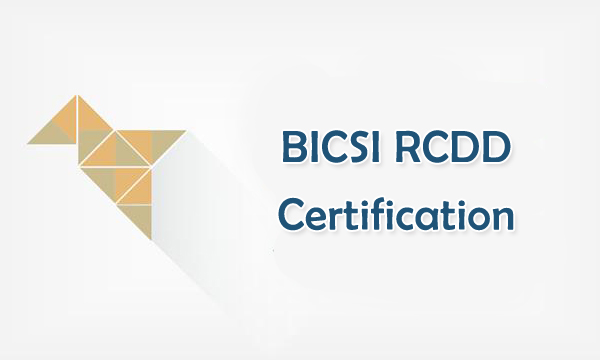 RCDD Exam Specifics
Exam Code: RCDD-002
Number of Questions: 100
Allotted Examination Time: 2.5 Hours
Questions type: multiple choice; multiple response and enhanced matching item types.Item options range between 3 and 5 options
Exam Fee: $510 - BICSI Member, $725 - Nonmember
RCDD Exam Blueprint
Define Scope of ICT Design 10%
Design ICT Solutions 66%
Support ICT Bid/Tender Process 9%
Support ICT Installation Process 15%
Study RCDD Exam Certification Questions
We have released the latest BICSI Registered Communications Distribution Designer RCDD-002 exam certification questions, which can help you test all the above blueprint. Share some RCDD certification RCDD-002 exam questions below.
1.A SONET OC-1 channel can carry 672 voice signals and has a data rate of 51.84 Mbps. A SONET OC-48 channel can carry 32,256 voice channels.What MINIMUM data rate is required for the OC-48 channel?
A. 155 Mbps
B. 622 Mbps
C. 2.5 Gbps
D. 5 Gbps
E. 10 Gbps
Answer: C
2.Optical transmitters are typically one of the following types EXCEPT:
A. Light-emitting diode (LED)
B. Short wavelength laser compact disc (CD)
C. Vertical cavity surface emitting laser (VCEL)
D. Laser diode (LD)
E. Overfilled launch (OFL)
Answer: E
3.Assume that the optical power transmitted by a 62.5/125 multimode fiber is distributed uniformly across its core.
If this fiber is perfectly coupled (i.e., the two fibers are aligned and abutted) to a 50/125 fiber, what is the percent of power that is lost?
A. 0 percent
B. 36 percent
C. 50 percent
D. 80 percent
E. 100 percent
Answer: B
4.Wave division multiplexing (WDM) is most similar to:
A. Amplitude modulation
B. Frequency modulation
C. Time division multiplexing
D. Frequency division multiplexing
E. Carrier sense multiple access with collision detection (CSMA/CD)
Answer: D
5.Which characteristic is an advantage of copper based media over optical fiber cable?
A. Weight
B. Corrosion resistance
C. Ability to handle analog signals
D. Susceptibility to EMI
E. Very high data rates
Answer: C