New ISM V4 DEA-1TT4 Certification Dumps
January 09,2020
ISM V4 DEA-1TT4 exam is the new replacement test of E05-001, which has been retired. DEA-1TT4 exam is a required test for Associate-Information Storage and Management Version 4.0 certification, which tests the learner's knowledge of storage-related technologies in an increasingly complex IT environment, which is fast changing with the adoption of third platform technologies.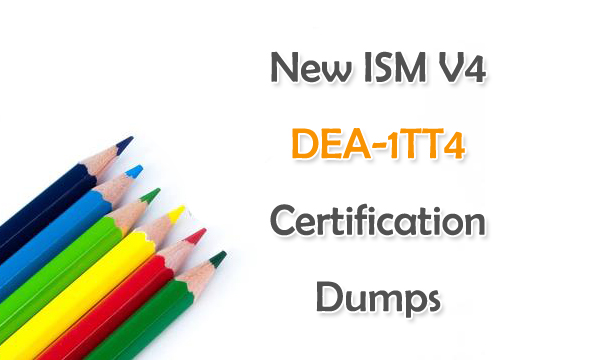 Read and Study ISM V4 DEA-1TT4 Information and Topics
DEA-1TT4 Information
Number of Questions: 60
Duration: 90 minutes
Pass Core: 60
DEA-1TT4 Topics
Modern Data Center Infrastructure (15%)
Storage Networking Technologies (20%)
Storage Systems (26%)
Backup, Archive, and Replication (24%)
Security and Management (16%)
Remember and Practice DEA-1TT4 Certification Dumps
ISM V4 DEA-1TT4 certification dumps from Passtcert are the best preparation material for you to pass the test. Share some DEA-1TT4 certification dumps below.
1.A consumer is interested in a service that provides multiple operating systems and programming frameworks for application development and deployment. Which recommended cloud service model will meet these requirements?
A. Storage as a Service
B. Platform as a Service
C. Infrastructure as a Service
D. Software as a Service
Answer: B
2.What is an accurate statement about stretched VLANs?
A. Reduces network bandwidth requirements during VM migration across sites.
B. Requires a change in the VMs' IP addresses to match the addressing scheme at the other sites.
C. Enables automatic modification of VLAN addresses during VM migration across sites.
D. Supports migration of VMs across sites without the need to change their network configurations.
Answer: A
3.When implementing a full mesh topology in a Fibre Channel (FC) SAN environment, what is the effect when there is an increase in the number of switches?
A. Reduces the available node ports for ISL connectivity.
B. Increases the load on the ISLs due to traffic aggregation.
C. Increases the hop count for compute to storage traffic.
D. Reduces the available switch ports for node connectivity.
Answer: D