The common questions of 210-260 IINS exam
October 24,2019
There are often candidates who ask 210-260 IINS exam question, and I have collected the most common questions: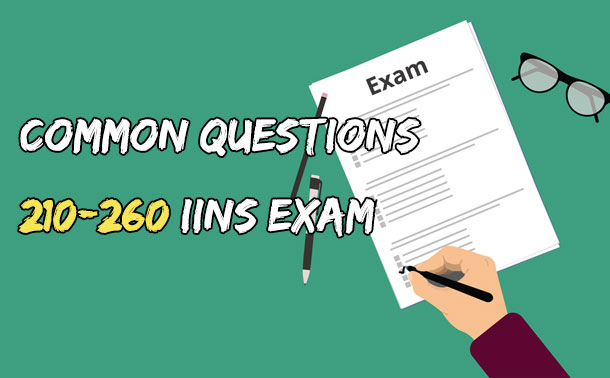 When will exam 210-260 be retired?
Well, we now have an answer. The last day to test for 210-260 is 23 February 2020.
CCNA Security is going away (there will now be just one CCNA cert).
The new CCNA certification replaces the current CCNA certifications for:
CCNA Cloud
CCNA Collaboration
CCNA Cyber Ops
CCNA Data Center
CCDA
CCNA Industrial
CCNA Routing and Switching
CCNA Security
CCNA Service Provider
CCNA Wireless
How much is CCNA Security exam cost?
Exam costs: All CCNA exams listed above are $300 except for 200-125, which is $325, and the ICND1 and ICND2 exams at $165 each. Pearson VUE is the authorized Cisco test delivery partner.
What is the current CCNA Security exam?
The current version of CCNA Security is 3.0 with exam number 210 - 260 IINS. The CCNA Security certified professional has the skill to develop a security infrastructure, recognize threats and vulnerabilities to networks.
How many questions are on the CCNA Security exam?
This exam approves the ability to install, investigate, troubleshoot, and monitor a secure network and to keep confidentiality, integrity, controlling devices and availability of information and data. The exam duration is 90 minutes, comprises of 60-70 questions.
Do you need CCNA to get CCNA Security?
You don't have to take the CCNA Routing and Switching to take the CCNA Security. The one certificate that you HAVE TO take before the CCNA Security is the CCENT "ICND1 100–105" certificate as Cisco requires that you pass the CCENT exam before getting any more advanced certificates.
Is CCNA Security harder than CCNA?
CCNA Security is much easier than CCNP(R&S). We can say it is quite less harder to pass than CCNP. Cisco Associate-level training consists of basic networking competency whereas, professional level training is based on advanced knowledge of Networks and Networking solutions.