Cisco 300-320 ARCH Exam will be Retired on Feb.23, 2020
February 13,2020
Cisco 300-320 ARCH exam will be retired on Feb.23, 2020. We all know that Cisco 300-320 ARCH exam is one of the three required exams for Cisco CCDP certification, which builds advanced knowledge of the network design concepts and principles required to develop multi-layer enterprise architectures and network components.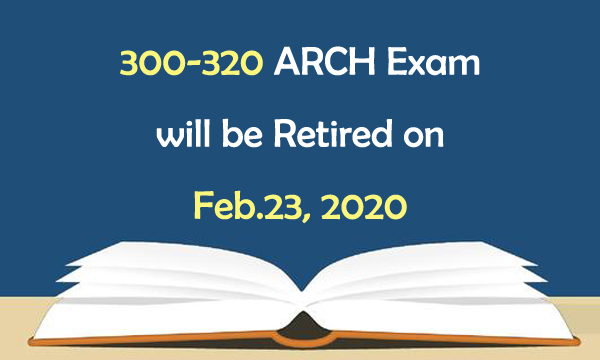 The other two required exams for CCDP certification will be also retired on Feb.23, 2020. They are Implementing Cisco IP Routing (ROUTE) 300-101 ROUTE and Implementing Cisco IP Switched Networks (SWITCH) 300-115 SWITCH. If you are preparing CCDP certification, please keep going. On February 24, 2020, new exams for CCNP Enterprise will go live. In the new program, CCDP certification will be integrated into the CCNP Enterprise certification.
Our Cisco 300-320 ARCH certification dumps have been updated, which are valuable for you to pass the test. Share some updated Cisco CCDP 300-320 ARCH exam questions and answers below.
1.An engineer is developing an enterprise strategy for IPv6 migration. The legacy IPv4 environment should not be in any way affected by migration to avoid production outages.Which deployment model accomplishes this goal?
A. hybrid
B. distributed
C. dual-stack
D. service block
Answer: C
2.Which technology in a data center provides traffic between the client and servers or from server to server using all available links?
A. vPC
B. VDC
C. VRF
D. VXLAN
Answer: A
3.An engineer is designing a campus network with dedicated VLANs per access layer switch and wants to ensure that load sharing is supported.Which type of distribution to access link must be implemented to accomplish this configuration?
A. shared
B. spanned
C. Layer 3
D. Layer 2
Answer: A
4.An engineer must install a firewall and IPS that does not deny traffic to hosts but notifies another device to block traffic. In which mode is the IPS deployed?
A. multitier
B. promiscuous
C. inline
D. redundant
Answer: B
5.An engineer is building a new data center design based on Cisco ACI. For security reasons, certain applications are prevented from communicating directly with each other, and bandwidth requirements exclude the possibility of using an external security appliance.
Which solution satisfies these requirements?
A. Place applications in the same EPG and apply filters
B. Place applications in separate EPGs
C. Place applications in separate bridge domains
D. Place applications in same bridge domain and apply filters
Answer: D