New Avaya ACIS 71200X Exam Available
August 15,2019
7120X exam has been retired, and the new replacement test is Avaya ACIS 71200X. Avaya Aura Core Components Integration Exam 71200X test is a requirement to earn the ACIS-Avaya Aura Core Components credential. To get this credential, you need to pass Avaya ACIS 71200X exam successfully.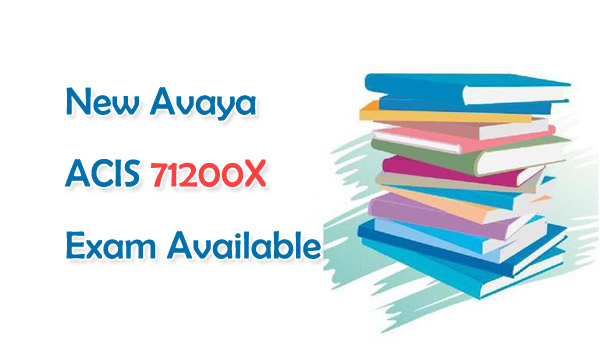 The following 71200X exam information, exam topics and certification dumps are helpful for you to pass the test.
71200X Exam Information
There are 67 questions in real Avaya Aura Core Components Integration Exam 71200X test, which will take you 90 minutes to complete the test. The minimum passing score of Avaya ACIS 71200X exam is 69%. You can register 71200X exam at Pearson VUE test center.
71200X Exam Topics
With Avaya ACIS 71200X exam topics, you can prepare the test well. Share the details below.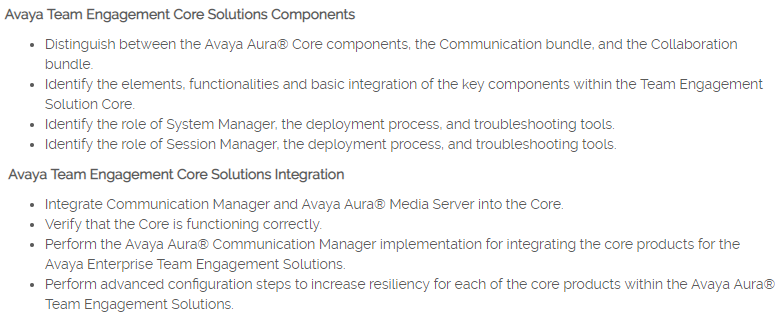 71200X Certification Dumps
Avaya Aura Core Components Integration Exam 71200X certification dumps can help you test all the above exam topics. There are 112 Q&As in Avaya ACIS 71200X exam certification dumps. Share some Avaya 71200X certification dumps questions below.
1.Which reference, visible in the Communication Manager License file, is entered on the Communication Manager Server Role page?
A. Communication Manager Serial Number
B. System ID (SID)
C. Product ID (PID)
D. System Manager MAC address
Answer: B
2.After configuring a newly deployed CM Duplex Cluster, you login for the first time with your Privileged User to the SAT command line, and notice that the Add and Change commands are not available.Which action is required to allow future changes to be made from the SAT command line?
A. Reboot both Active and Standby servers.
B. Install the CM authentication file.
C. Install the CM license on WebLM and point CM to the WebLM IP address.
D. Run save translations and then reset system 4.
Answer: A
3.Which two backup methods are available for a System Manager Backup? (Choose two.)
A. SD Card Backup
B. DVD Backup
C. Local Backup
D. USB Backup
E. Remote Backup
Answer: CE
4.Which statement correctly describes System Manager Licensing?
A. The System Manager license must be installed on a separate WebLM Server.
B. System Manager does not need a license, regardless of release.
C. System Manager requires a license from Release 7.1 onwards.
D. System Manager only requires a license when implementing in a dual server redundant topology.
Answer: A
5.Which form in Communication Manager can be used to assign a specific Network Region to a user?
A. IP Network Region
B. Network Region Group
C. System Parameters IP Options
D. IP Network Map
Answer: A
Use our Avaya ACIS 71200X certification dumps to pass the test and earn ACIS-Avaya Aura Core Components credential.