New CCNA 200-301 VS 200-125
July 25,2019
200-125 exam is a required test for CCNA certification, which is pop for the candidates who want to join Cisco Industry. CCNA certification is a basic one of all Cisco certifications. News on Cisco official website, 200-125 exam will be retired on Feb.23, 2020, and the new exam 200-301 is available on Feb.24, 2020. So if you want to take 200-125 exam to earn Cisco CCNA certification, please take your time to write 200-125 exam.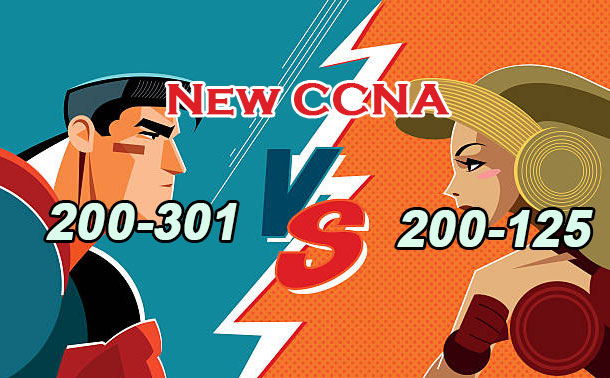 CCNA 200-301 VS 200-125
If you do not want to earn CCNA certification now, you can read the following differences between 200-301 and 200-125 exams, which will be helpful in your preparation.
Exam Information
Exam Topics
200-125 (will be retired on Feb.23, 2020)

Number of Questions: 60-70 questions

Duration: 90 minutes

Available Languages: English, Japanese

Registration: Pearson VUE

1.0 Network Fundamentals 15%

2.0 LAN Switching Technologies 21%

3.0 Routing Technologies 23%

4.0 WAN Technologies 10%

5.0 Infrastructure Services 10%

6.0 Infrastructure Security 11%

7.0 Infrastructure Management 10%

200-301 (will be available on Feb.24, 2020)

Duration: 120 minutes

Available language: English

Registration: Pearson VUE

1.0 Network Fundamentals 20%

2.0 Network Access 20%

3.0 IP Connectivity 25%

4.0 IP Services 10%

5.0 Security Fundamentals 15%

6.0 Automation and Programmability 10%
From the above table, you can know that new 200-301 exam duration becomes long. Through there are only 6 sections covered in 200-301 CCNA exam topics, many new contents are available. For those candidates who prepare 200-125 CCNA exam or decide to get CCNA certification in short time, please take your time to write 200-125 CCNA exam. New 200-301 exam will be more difficult than 200-125.
We have cracked the latest Cisco 200-125 certification dumps, which can help you clear 200-125 test. Besides, Cisco company always change their exam questions every two weeks, so please take your 200-125 exam soon after you purchase it from our website. We promise that, our Cisco 200-125 CCNA exam certification dumps can guarantee you success in the first attempt. If you fail 200-125 CCNA exam with our certification dumps, you can get full refund.
200-125 CCNA Certification Dumps
Share some of our Cisco 200-125 certification dumps below for you to read.
1.Which IEEE mechanism is responsible for the authentication of devices when they attempt to connect to a local network?
A. 802.11
B. 802.1x
C. 802.3x
D. 802.2x
Answer: B
2.Which command should you enter to confiure a device as an NTP server?
A. ntp authenticate
B. ntp server
C. ntp master
D. ntp peer
Answer: C
3.Which switching method checks for CRC errors?
A. store-and- forward
B. cut-through
C. fragment-free
D. Layer 3
Answer: A
Want to read more Cisco 200-125 CCNA certification dumps? You can contact us via [email protected]