New CompTIA IT Fundamentals Exam Available
January 24,2019
New CompTIA IT Fundamentals FC0-U61 exam is available. CompTIA IT Fundamentals+ FC0-U61 exam focuses on the essential IT skills and knowledge needed to perform tasks commonly performed by advanced end-users and entry-level IT professionals alike, including:
Using features and functions of common operating systems and establishing network connectivity
Identifying common software applications and their purpose
Using security and web browsing best practices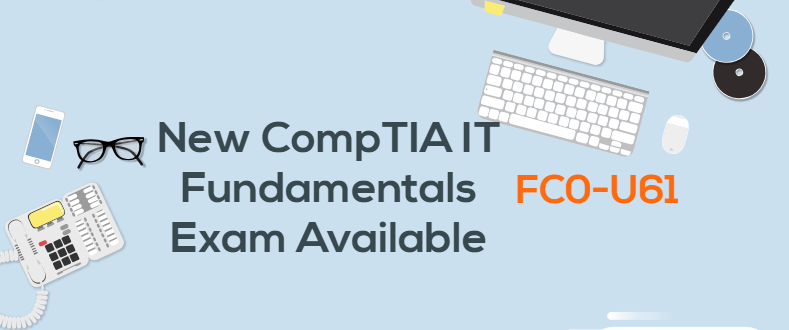 CompTIA IT Fundamentals FC0-U61 exam focuses on the knowledge and skills required to identify and explain the basics of computing, IT infrastructure, software development, and database use. The former FC0-U51 exam English language will be retired on July 15, 2019.
Show CompTIA IT Fundamentals FC0-U61 exam basic information and real exam topics below.
FC0-U61 Exam Basic Information
FC0-U61 Real Exam Topics

Number of Questions: 75 questions

Type of Questions: Multiple choice

Length of Test: 60 Minutes

Passing Score: 650 (on a scale of 900)

Language: English

Price: $119 USD

1.0 IT Concepts and Terminology 17%

2.0 Infrastructure 22%

3.0 Applications and Software 18%

4.0 Software Development 12%

5.0 Database Fundamentals 11%

6.0 Security 20%
We provide the latest CompTIA IT Fundamentals FC0-U61 exam certification dumps, which can help you pass the test successfully and get CompTIA IT Fundamentals certification. What's more, you can enjoy 50% discount on CompTIA IT Fundamentals FC0-U61 certification dumps now, the coupon code is "newyear". Enjoy this promotion!