New Version of CompTIA SY0-501 Certification Dumps is Available
September 12,2019
SY0-501 exam is one required test for CompTIA Security+ certification. New version of CompTIA SY0-501 certification dumps is available for you to prepare SY0-501 exam. There are 694 questions and answers in CompTIA Security+ SY0-501 exam dumps new version, which can guarantee you pass the test in the first attempt. Share some CompTIA certification SY0-501 exam dumps questions below.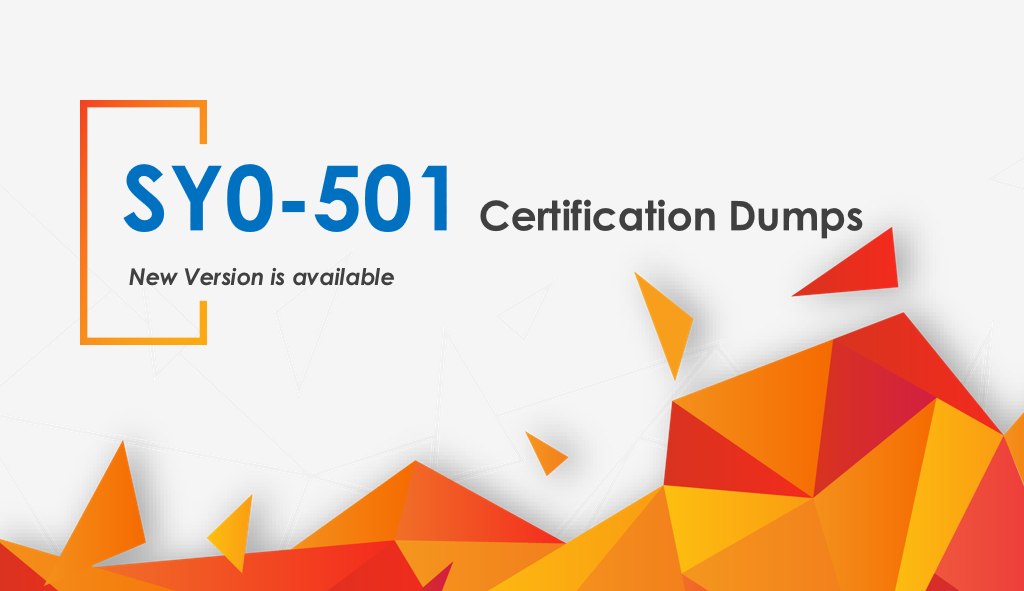 1.A company often processes sensitive data for the government. The company also processes a large amount of commercial work and as such is often providing tours to potential customers that take them into various workspaces. Which of the following security methods can provide protection against tour participants viewing sensitive information at minimal cost?
A. Strong passwords
B. Screen protectors
C. Clean-desk policy
D. Mantraps
Answer: C
2.Joe is a helpdesk specialist. During a routine audit, a company discovered that his credentials were used while he was on vacation. The investigation further confirmed that Joe still has his badge and it was last used to exit the facility.Which of the following access control methods is MOST appropriate for preventing such occurrences in the future?
A. Access control where the credentials cannot be used except when the associated badge is in the facility
B. Access control where system administrators may limit which users can access their systems
C. Access control where employee's access permissions is based on the job title
D. Access control system where badges are only issued to cleared personnel
Answer: A
3.A security architect is designing an enterprise solution for the sales force of a corporation which handles sensitive customer data. The solution must allow users to work from remote offices and support traveling users. Which of the following is the MOST appropriate control for the architect to focus onto ensure confidentiality of data stored on laptops?
A. Full-disk encryption
B. Digital sign
C. Federated identity management
D. Cable locks
Answer: A
4.A security administrator needs a method to ensure that only employees can get onto the internal network when plugging into a network switch. Which of the following BEST meets that requirement?
A. NAC
B. UTM
C. DMZ
D. VPN
Answer: A
5.An administrator is configuring a new Linux web server where each user account is confined to a cheroot jail. Which of the following describes this type of control?
A. SysV
B. Sandbox
C. Zone
D. Segmentation
Answer: B
With full version of CompTIA certification SY0-501 exam dumps, you can pass the test easily and earn CompTIA Security+ certification.